Being a student in Lund is so much more than going to school, taking some class.
They have a huge culture there which the whole city is based upon right now.
They have different "nations" that are like sororities/fraternities and you can join one,
work at their clubs, bars, dinner parties, lunches etc. And you make so many new friends
and you can have a great time.
Yesterday, the nation that I'm a member of gave us newbies different challenges
throughout the whole day and it was so much fun! I was in a group where we were
about 4 swedish people and the rest were exchange students so I loved it!
The girls in my group were from Australia, Scotland, America and Canada and they
were hilarious. The day ended with a pre-party and then a dinner which was amazing!
The food was incredible and I was seated next to the funniest girls so we spent
the whole evening laughing and making jokes.
I had such a great time getting to know all of these new people, I didn't know
a single one when I joined my group that day but I didn't care. It's so easy to make
connections and build relationships if you're just open to it. I wasn't scared because
I knew that I would have a great time if I was positive and just went with whatever
happened.
This was my outfit to the dinner-party;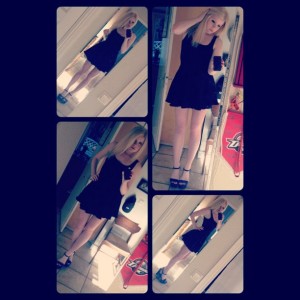 After the dinner, everyone went to the after-party but since I'm not used to that life
and I've been sick for a long time, I decided to go home. I'm sure that it'll be fun to
join some event further on and I will definitely meet up with these girls at another
time too. Some of them even wanted me to come visit them which was great!
I posted this on instagram last night;
"Swedishhoney; Now that I've tried the student life, all I can think about is how much
I miss my bed and how badly I want to go to the gym. Luckily, I'm surrounded by
amazing people which means that I will spend this night in my own bed and be prepared
for new adventures after this weekend."