It's what we always talk about. How it flies by, when we don't have it, what we
do with it and how things change along with it.
It's already November, fall has come and winter is slowly approaching with the
cooler degrees, fluffier sweaters and lit candles. Spring came and went, summer
definitely left a mark and flew by even though it was filled with activities and it
ended by school starting in August.
We are in our show-period at school, we've had our premiere and three other shows
with still two left. Three months almost feel like weeks. We're constantly in our little
bubble here with nothing else to focus on. This was the subject that we discussed in
our Drama class this week. How we see this whole process and what we do with it.
How we see our transformation and progress here at Musikteaterskolan
(music/theatre-school) in Bjärnum.
I have learned that goals and lists are excellent to have since they are excellent to lead
you to your finish line. I also know that we always have to bare in mind that things
are going to change along the way and we can't be afraid of the outcome, it might just
be better than expected.
I had so many things that I wanted to do during my year here and I can be honest
enough to admit that I haven't followed my plan since I had no idea that my life would
be like this. But I have exceeded my expectations and evolved and learned more than
I could've ever imagined.
But can you guess what makes me even more excited? That I still have six more
months here before it's time for another adventure. A lot can happen during one
week here. So after months of focusing on what you love the most has to be the
most giving thing you can do.
I was inspired to write about this after accidentally looking through folders of
pictures from this summer. Realization after realization came over me.
A lot has happened this year.
I've taken a class in Sociology at Lunds University, I spent a lot of time with my
friends, going places, meeting new people and discovering new environments both
here in Sweden, the US and within us. I went to the US to visit my friends and family
from my exchange year, I became a vegetarian and started to try to exclude animal
products as much as possible in my diet and I enjoyed being who I am with the
people I love the most.
Then I came here. My school, my life, my joy and pride.
I am learning so much about my vocal chords, singing technique, how I can be a
better dancer and performer etcetera etcetera. What is there not to love?!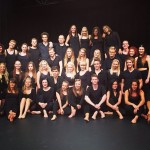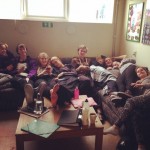 The biggest issue that people might have when it comes to time is that they don't take
it to sit down and admire themselves and the world around them. We should all reflect
on how things are changing us, how we're becoming better, what things has the best
impact on us and what are the things that we should give our main focus to?
I only write when I'm inspired, when something flips a switch in my head and ignites
the flame, which transfers into words on a screen. Most of the time when I do this, it's
like writing a journal and, sorry to say, not for the public eye. But this is a moment
where I have thoughts to share and I am actually positive that it has to do with the fact
that we had rehearsals and shows day after day and then we had a day off which gave
me time to let go of everything for a little bit.
Today we only had drama and we also had time to practice on whatever we felt like we
needed, so I've meditated, done some yoga and had a long conversations on a couch in
school with one of my best friends here.
So my mind is free to put things in perspective and understand what I am actually doing
and what I have accomplished this past year. I've grown so much since I came back from
the US 2 ½ years ago. I've experienced so much, learned new things and loved the process.
Wow, now I just can't stop. Haha, this became a fuzzy post but I am loving how my head
feels right this second. I hope that you're doing something today that makes your head
clearer and fills your body with passion and burning desires or whatever you may need.
"Remember you're the one who can fill the world with sunshine"
– Snow White, Snow White and the Seven Dwarves