Even though I'm only on the final days of my third week
and have a long way to go* I am feeling better than I have in
a long time! I feel so pleased with the progress I can see in
my mirror and I love the focus my supplements are giving me.
I love creating and mixing together small new things for my
afternoon snack to make it full of protein and I look forward
to each meal even if I eat the same thing** for breakfast,
snack and lunch each and every day.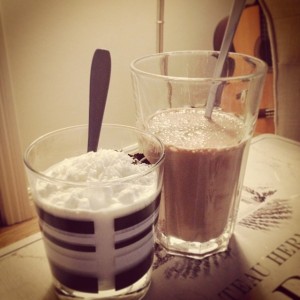 From my Instagram;
One glass containing a protein/coffee-smoothie made of;
Quark, Milk, Cacao, Chocolate protein powder and coffee.
One smaller glass containing sugar-free natural yogurt,
cottage cheese, coconut sprinkles and vanilla-powder.
So delicious! Couldn't eat them both though, I was way too
full. But both are a great snack filled with protein, healthy
fats and a party for your tastebuds!
* I haven't mentioned this but I'm doing this 'challenge'
for 12 weeks, creating sustainable and good habits.
**
Breakfast = Quark with protein powder,
different flavors each day.
Snack = One boiled egg, super easy to
bring and eat on the train on my way to school.
Lunch = My protein-bar, perfect to eat
on my way home from school.
I got a call from my doctor this Tuesday where he cleared
me and said that my test results were perfect and that I can
slowly get back to working out.
So this week has been filled with;
Dance classes – left me with sore abs, chest,
legs and butt each time, awesome!
Several sessions of jump rope – which is great
for my heart and lungs as well as my whole body,
not to mention my shoulders and arms!
Yoga – I love it when I can feel how much progress
I get on my flexibility!
Different weight-exercises – mostly focusing on my behind.
And of course; amazing and healthy food!
I've also had some extremely interesting and inspirational days
and nights this week and I'm looking forward to another one
tonight with my girls. Some of them are also doing this challenge
and they've gotten amazing results!
Looking forward to be done with next week because by that time,
it's time for another weigh-in and measuring myself again.